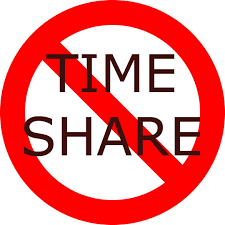 Time Share is Hot Victimization Topic
I happen to live in one of the Time Share capitals of the world. Central Florida commonly referred to as the Disney corridor has Time Share properties in massive density. Part of my experience in the RE industry was being on the sales line in a well known and established Time Share organization. It was there I learned all the inside secrets about Time Share. While the product is a reasonably useful opportunity it is unfortunately pitched as a one size fits all and well too often to people who have no experience, knowledge or need for a Time Share.
Once again this is an industry that has taught and trained predatory sales tactics. Yet with that in mind the most prevalent abuse in the industry is the so called Time Share resellers. These services are basically advertising services which are deceptively sold as resale services. The consumer pays several thousand dollars because they believe these reseller services directly has purchasers lined up to form a market place for the time share units. That is not the reality, these services provide advertising services which in theory list the property. Any consumer could do that on their own for far less expense.
So the time share purchase is a financial decision that can cause victimization. If you and the family are prone to travel and have strong emotional and financial commitment to vacationing then a time share may make sense and be a good solution. You still need to shop and find the best alternatives that suit the needs of your entire family but under those circumstances time share is sensible.
Where we have gotten involved is in the rescission of existing ownership. The market place seems over extended with unhappy time share owners who are frustrated and feel financially cornered with a contract that continually increases in annual costs and doesn't seem to allow the flexibility that was touted in the sales presentation.
We have provided successful outcomes for a number of members who were unhappy time share owners. This is simply another example of how being a member of the Advocacy Network can benefit you nd your family. We handle all forms of financial circumstances and both past decisions as well as the financial decisions that will impact you in the future.
Here is a brief video explanation:
YOUR Best Interest Is OUR Only Concern!