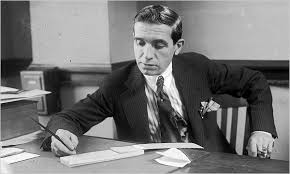 Former NFL linebacker and ex-wirehouse adviser ran $10M fraud, SEC charges
As you read this, ask yourself if you might have been taken in by the former celebrity of an ex NFL player, and if you were a fan of his particular team would you have been more likely to buy into this credibility link?
A former linebacker with the Philadelphia Eagles used the life savings of football coaches as a "personal piggybank" to fund a $10 million fraud, according to charges from the SEC.
The commission is seeking to permanently bar Merrill Robertson Jr., also a former broker with Merrill Lynch, and his alleged co-conspirator, Sherman C. Vaughn Jr., from the industry, as well as demanding the return of funds allegedly taken from investors. Robertson and Vaughn could not be reached for comment.
Robertson, 36, played for the Eagles from 1999 to 2001, according to virginiasports.com. He worked for Merrill Lynch in Richmond from 2008 to 2009. Vaughn, 45, holds a bachelor's degree from Virginia Union University, the SEC says, although he portrayed himself online as a "doctor" and a commercial real estate investor. Both live in Chesterfield, Va. Vaughn was never a registered broker or investment adviser, according to the SEC.
HIGH RETURNS PROMISED
Aside from a few restaurant investments that failed in 2014, most of the business activity purportedly undertaken by the two men's firm, Cavalier Union Investments, was entirely fictitious, the commission says in its complaint filed in federal court in the Eastern District of Virginia on Aug. 10.
"Cavalier did not have any divisions, investment funds or investment advisers," the complaint says. "Nor did it have a diversified investment portfolio. Cavalier was functionally insolvent shortly after it was formed and it relied on cash from investors to stay afloat and pay investors who requested their money back."
To win over prospects, Robertson and Vaughn promised fixed rates of return of between 10% to 20% on the largely nonexistent investments, while also promising "safety and security" for investors, the complaint says.
In all, Robertson and Vaughn misappropriated nearly $6 million of investors' funds to pay for their "luxurious" lifestyles, which included high-end clothing, vacations and spa visits, according to the commission.
The funds came from unsophisticated senior citizens as well as alumni of and football coaches at schools Robertson had attended, including the University of Virginia and Fork Union Military Academy in Fork Union, Va., says the SEC.